Home
›
Feature Requests
Spectrum analyzer with chromatic marks
The most powerfull tool I found in Ableton, when I'am sampling, is the spectrum analyzer. Theres an option to show the chromatic scale through the frequencies. Its veeeeery helpfull to fine tune my samples. Especially when sampling from my lite handytrax (not that stable motor hehe) or youtube (seems like 99% of the great stuff is recorded with a handytrax

).
With a piano it's nemas problemas to pick out the root note of a sample, but after I tried out Ableton and found the spectrum analyzer, its fucking lightning fast. So fast I've fine tuned and "root noted" my whole sample library from the last year.
If there was a spectrum analyzer implemented in BM3, it would be so amazing! Maybe implement it in the EQ (filter 6)?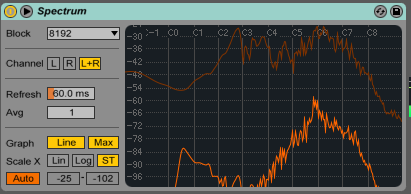 The grid represent the frequencies in the chromatic scale, instead of freq. number, and in the top you see the note names. The image is cramped down so it only shows the octaves. But in a large window it shows the grid with semitones.