Home
›
General
Batch Create Beatmaker 3 Kits from your Samples & Maschine Libraries - Kit Maker
Hey all,
We made an app that can batch create 16-pad kits out of any samples, OR convert your Maschine Libraries into kits, automatically. It is called Kit Maker.
www.kit-maker.com
VIDEO: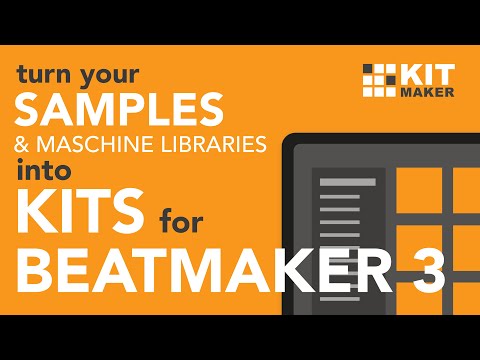 FEATURES
For Mac AND PC
Interactive GUI interface
Create kits for a variety of DAWs
Use Maschine libraries to create kit presets of all Maschine drum kits
Or use ANY SAMPLES you want to create your own libraries and infinite kits
Drag and rearrange pad layouts as you want; save your own custom layout
Keep your same layout across all kits; use the same MIDI patterns across all your kits
Creates presets for:
Ableton Live 10
MPC Live, MPC One, MPC X and Akai Force Hardware.
MPC 2 Desktop software (and MPC Touch)
Beatmaker 3 iOS
NanoStudio 2 iOS
and a "Numbered Files" option so you can drag and drop ordered kit samples into:
iMPC 2 iOS
Reason Devices such as
Kong and Umpf Devices,
FL Studio's Channel Rack Sequencer,
Logic X Pro Drum Machine Designer,
Groove Agent 5,
Geist2,
Bitwig Studio,
and more.
*This is a free upgrade for existing customers.
GET HERE: https://gumroad.com/kitmaker#DKldN
Get $5 off this first week of our launch using coupon code: LAUNCH