Home
›
Resources
APC40/Other/iPad Users Templates for BM3 (V1.2 available now!)
Thought I'd share what I've been building for the community.


I will be updating this thread regularly with updates to this. Release 1.2 is now available for download below! Videos soon!
NOTE:
Since Release 1.2, this can be used with iPad (touch only) users and other controllers regardless whether you have an APC40 or not!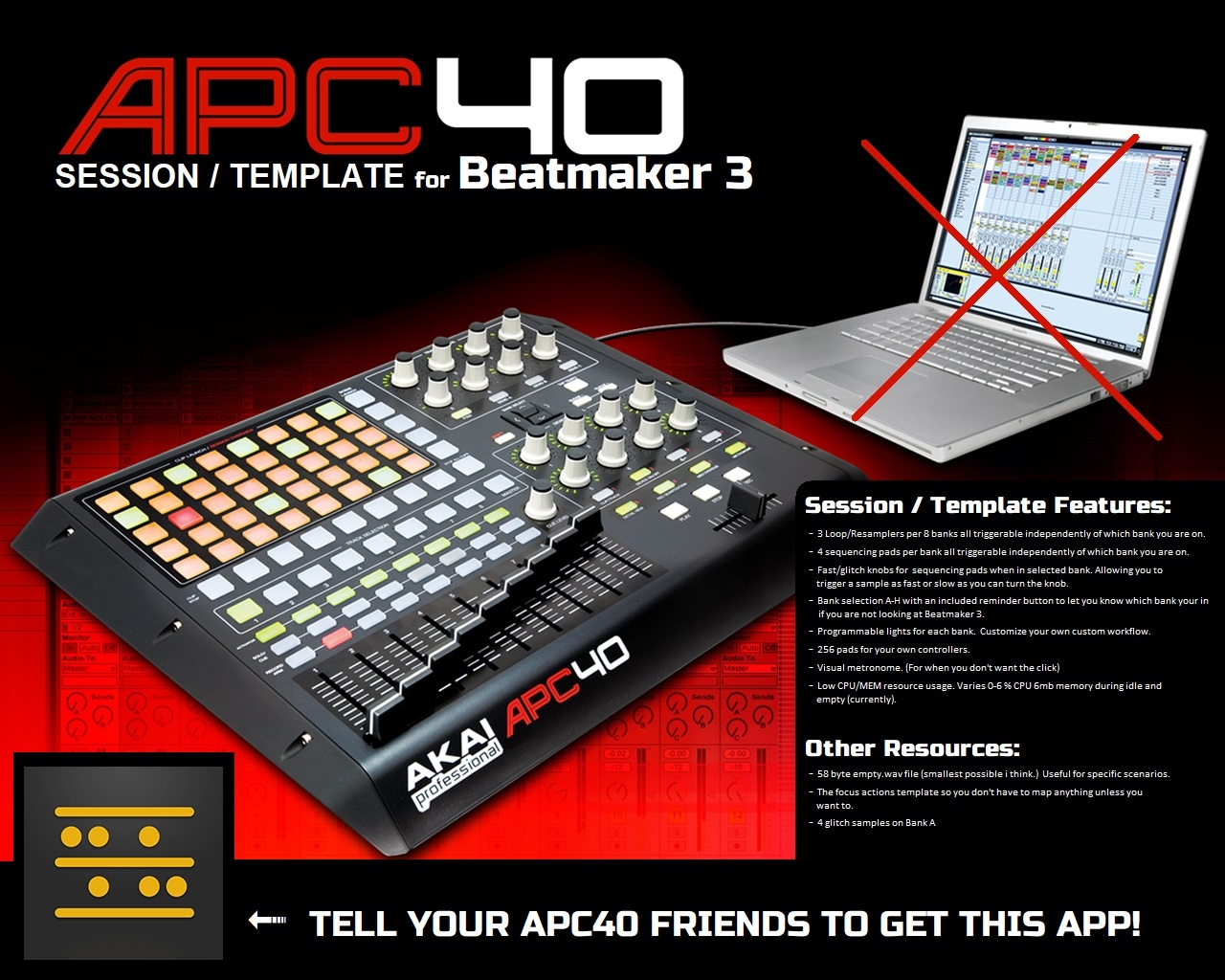 Release 1.2 Session/Template Features:
TEMPLATE PADS Three Loop/Resamplers/One-shots per 8 banks all triggerable independently of which bank you are on (with the APC40 or a compatible controller) Each pad can be triggered if you're on the selected bank using focus actions or the multipurpose linktool provided.

TEMPLATE PADS Four sequencing pads per 8 banks all triggerable independently as loops/resamplers/one-shots without being in selected bank (with the APC40 or a compatible controller) Each includes it's own fast/glitch knob when in selected bank. Allowing you to trigger a sample as fast or slow as you can turn the knob. Fast/glitch knobs can't be recorded into the pattern editor. Use Resampling! Each pad can be triggered if you're on the selected bank using focus actions or the multipurpose linktool provided.

TEMPLATE PADS Footswitch Control. 2 triggerable foot pads (FS1 and FS2 for APC40 or supported controllers) when in focused bank or triggerable independently on the APC40 (with 2 buttons) regardless of bank. Allows 4 triggers simultaneously. If you have an electronic drum kit or performance pad with independent channel assignment. This gets way better.

TEMPLATE PADS Five additional instruments / sequencers / triggers per bank all triggerable independently regardless of bank focus with compatible controllers. Each pad can be triggered if you're on the selected bank using focus actions or the multipurpose linktool provided.

PLUGIN AUTOMATION / SEQUENCING Build your own Automator or Sequencer with plugins on each bank with the provided Pre-Setup pads or any. Triggerable independently with proper setup. Automate BM3 Controls, Scenes, Pads, Repeats. Limited only by the plugins you use.

AUDIO TRACKS Nine Pre-Setup Bounce/Resampling Audio Tracks (Record an entire performance in real-time or capture anything from banks, pads, or automate auxes for further song sequencing)

AUXILIARY EFFECTS Eight pre-setup aux tracks. Each have their own function and work independently through send assignment on audio tracks, banks and/or pads. (REVERB, DELAY, NY COMP, CUSTOM1, CUSTOM2, CUSTOM3, CUSTOM4, FADE/KILL/MIX TOOL)

ALL USERS MULTI-PURPOSE LINKTOOL (and Empty.wav resource) Beatmaker 3 has linkable pad functionality. With it, you can do some amazing stuff. Create Empty template pads, perform keys away from your samples with new key mappings! Change the pitch of a sample from a separate pad! Trigger multiple pads with link groups all without destroying your sample placement. Add the empty.wav sample as an existing layer to a pad and use it to control all sample parameters of a single pad. Hack BM3's loop/trigger methods. Use it with multi controller setups. The list goes on and I'm still seeing what I can do!

ALL USERS MULTI-PURPOSE FADE, KILL, MIX TOOL (MACRO 16) Ride the faders! Set your mix levels, fade out with aux effects, kill any banks volume, set it up as a VCA grouping simulator. The choice is yours! All recordable as automation!

OTHER APC40 FEATURES Hybrid Bank/FX Selection A-H with an included reminder knob to let you know which bank you are in. Has hybrid features with the ability to lock yourself out of a bank or use the fx banks simultaneously. Bank selection is turned off by default. Turn knob 8 in the selected bank to keep it in bank selection mode. All this is very useful if you are not looking at BM3.

OTHER APC40 FEATURES Custom repeaters with Lock Loop function. Using a button on the APC40 you can trigger your sounds in time with the metronome starting with a 1 BAR repeat. 4 additional repeaters pre-set and premapped 1/4, 1/8, 1/16, 1/32 are included as well. Very useful for creating complex patterns and staying in time. Recordable as an automation. Currently available on the Master Track Selection.

OTHER APC40 FEATURES Programmable lights for each bank with default lights, no lights or your own custom workflow using a LIGHTS_CTRL bank in the resources/template_banks folder. Each triggerable by using scene mode and bank selection simultaneously. Does not interfere with the functionality of scene mode either. And as many light patterns BM3 allows. Can also record your performance with lights per bank if you wish. Might chew through CPU/mem though.

MIDI CONTROLLER FOCUS ACTIONS Four included focus actions. (FOCUSED, UNFOCUSED, Trigger Bar Options) FOCUSED allows keys mode on the APC40. UNFOCUSED turns the APC40's entire pad grid into an independent trigger setup. In the UNFOCUSED action you can use your own controllers for keys or pads. Both focus actions leave you 768 empty pads across all banks. (Or more if you load your own banks packs kits etc). Now includes Trigger Bar modes for pads in the template (Uses Clip Stop section on APC40) Please see mapping's for referencing

OTHER APC40 FEATURES Visual metronome available in METRONOMES bank. (For when you don't want the click)

ALL USERS The METRONOMES bank allows you to record your own metronome sounds! Perform, practice, or record to polyrhythms etc. Useful for sketching out rhythms. Great for drum sequencing. Samples are included for one alternative metronome. Build your own click patterns!

TEMPLATE ORGANIZATION Clean, organized, and non-destructive design. Has own file directory structure with all included resources. Clean coloring on pads, prenamed untitled banks and starting patterns. Premade projects folder to archive/store your Project sessions, multipurpose link tool for easy bank design and non-destructive/other uses. Reload any bank if you deleted/cleared something and need it back.

FULL BEATMAKER 3 COMPATIBILITY Release 1.2 template fully utilizes BM3's tagging system and supports all BM3 users. You no longer have to use the documents browser if you don't want to.

Low CPU/MEM resource usage. Varies 0-10 % CPU less than 6mb memory (currently at idle as new project/session.) Can get lower if you delete what you don't use and use lights sparingly. (Tested on iPad Pro 9.7inch with/without an audio interface, tested all audio sample rates, latency, and bit depth and active input/output MIDI devices. Your results will vary depending on device and settings.)
Other Resources:
45 byte Empty.wav file (smallest possible I think). Useful for specific scenarios especially with the multipurpose link tool and lights crtl bank.

2 alternative metronome clicks. (cHigh.wav, cLow.wav)
1.2 SCREENSHOTS:
Performance View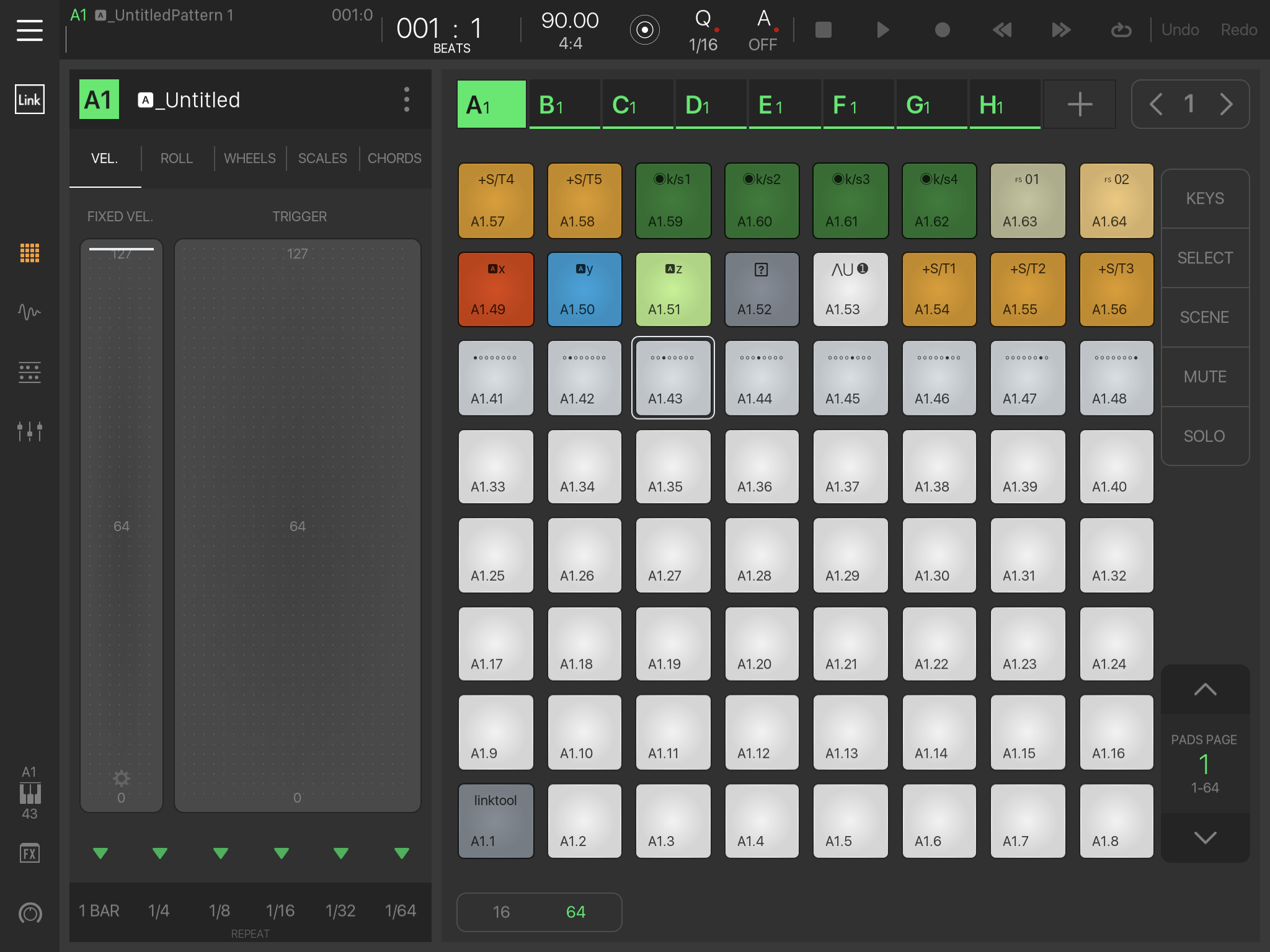 Sampler View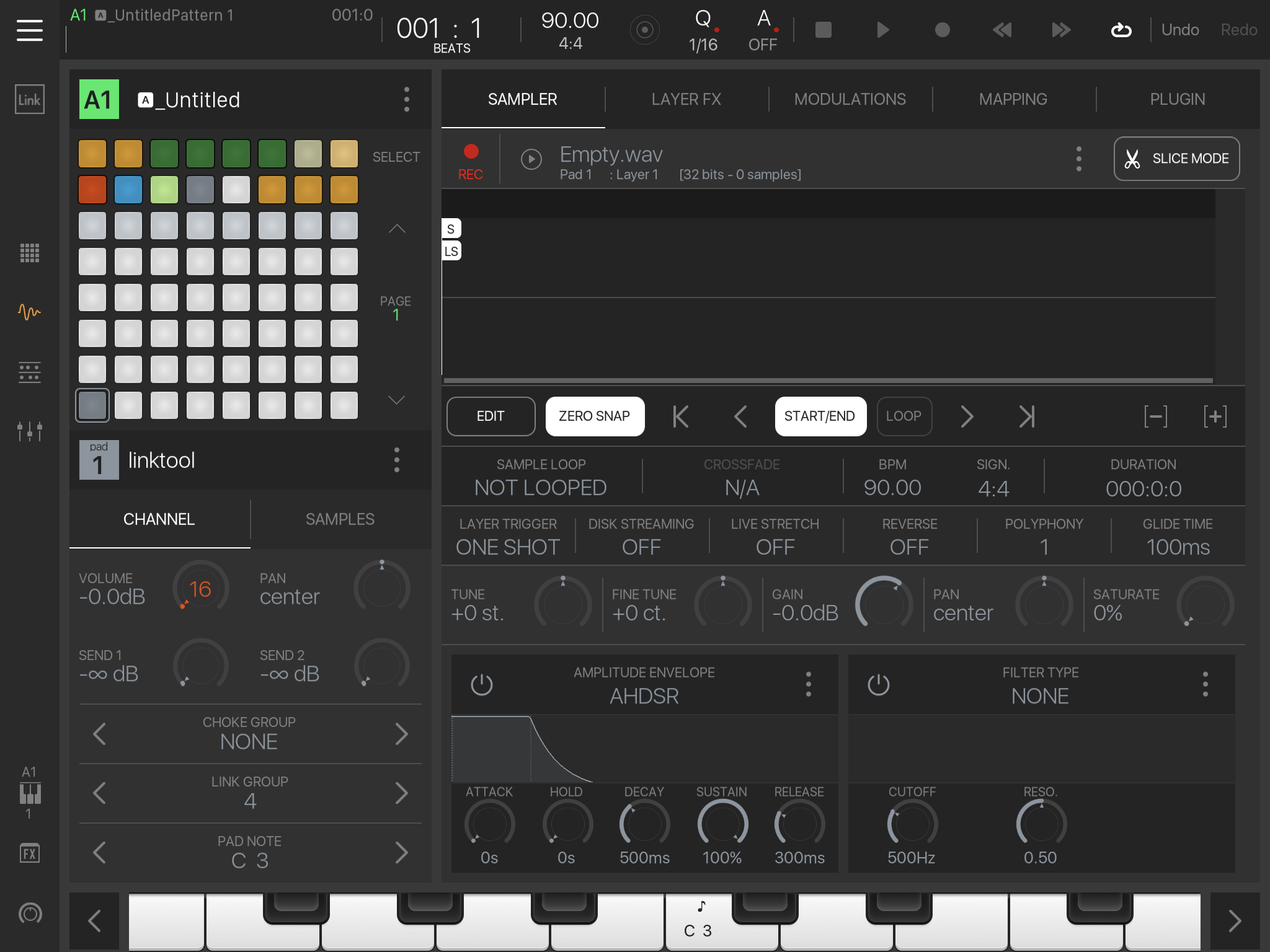 Sequencer View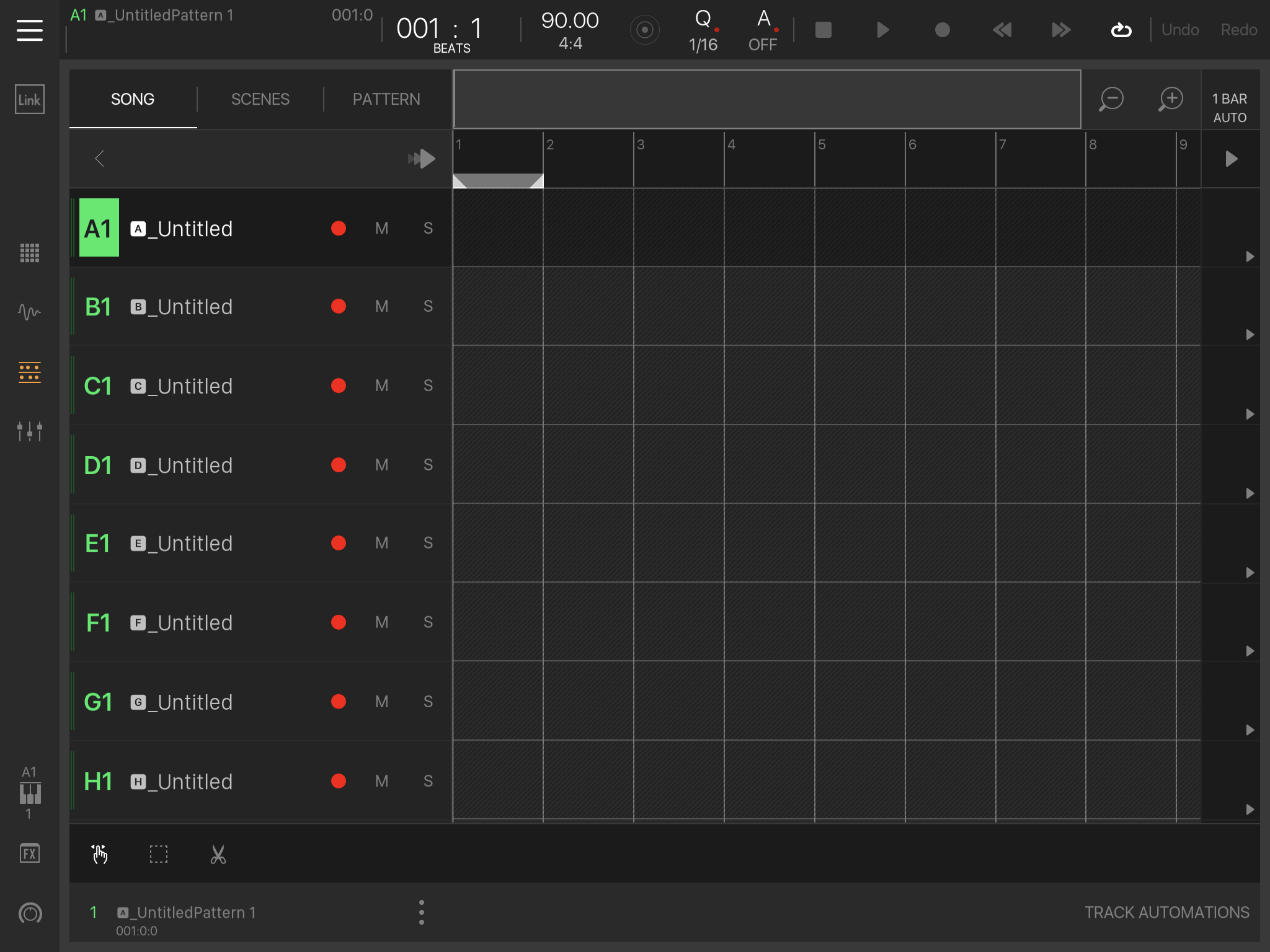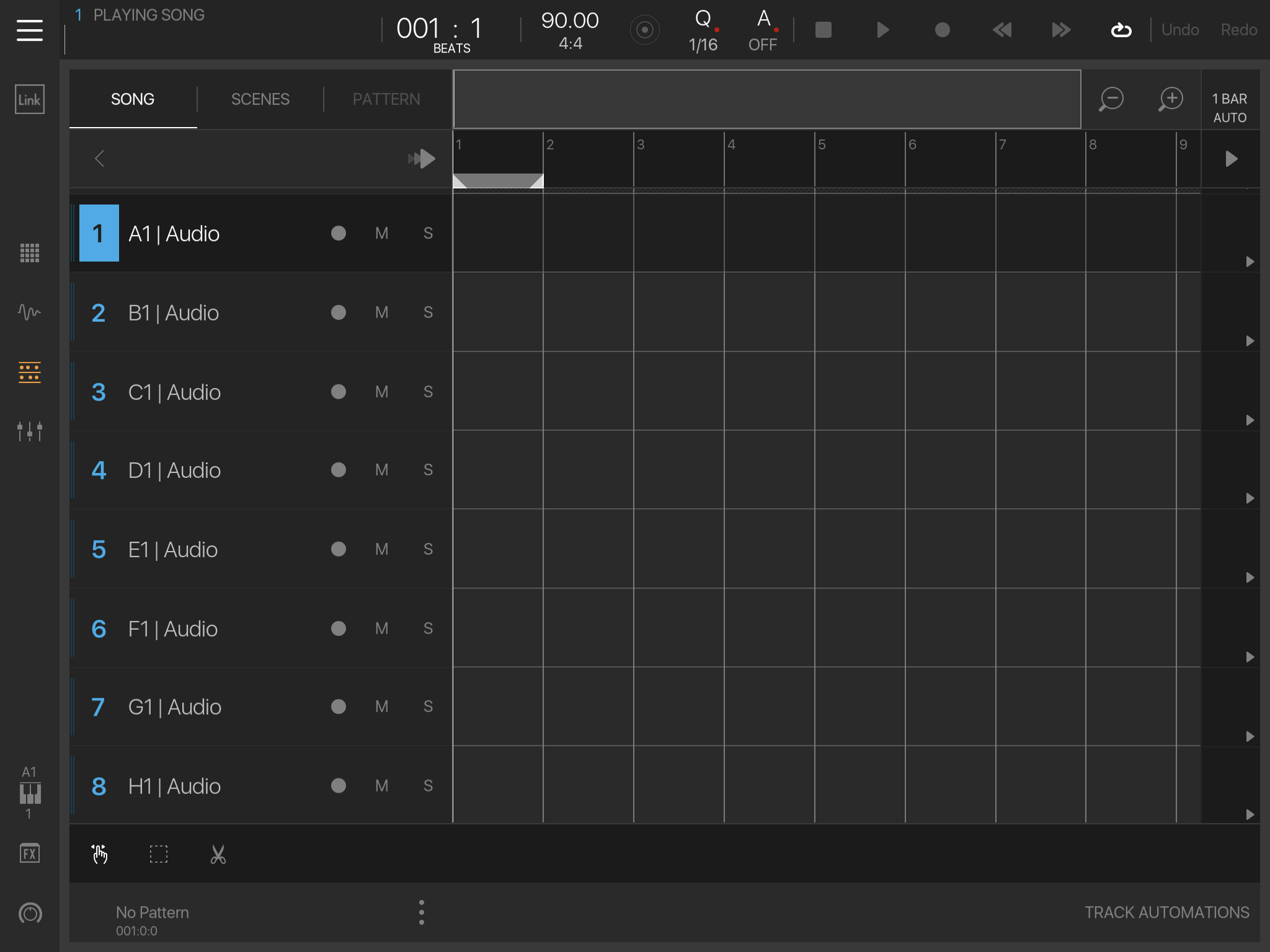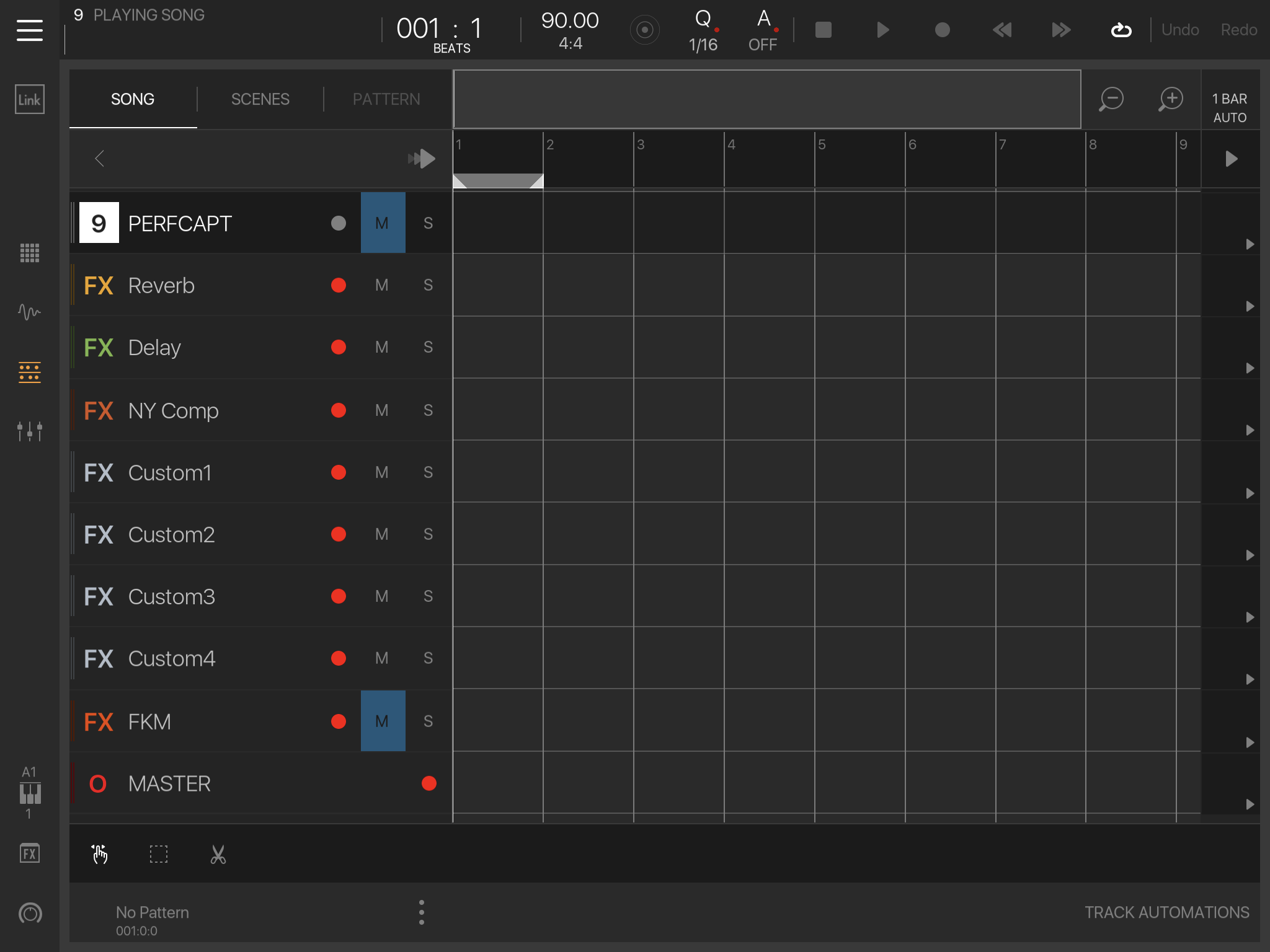 Mixer View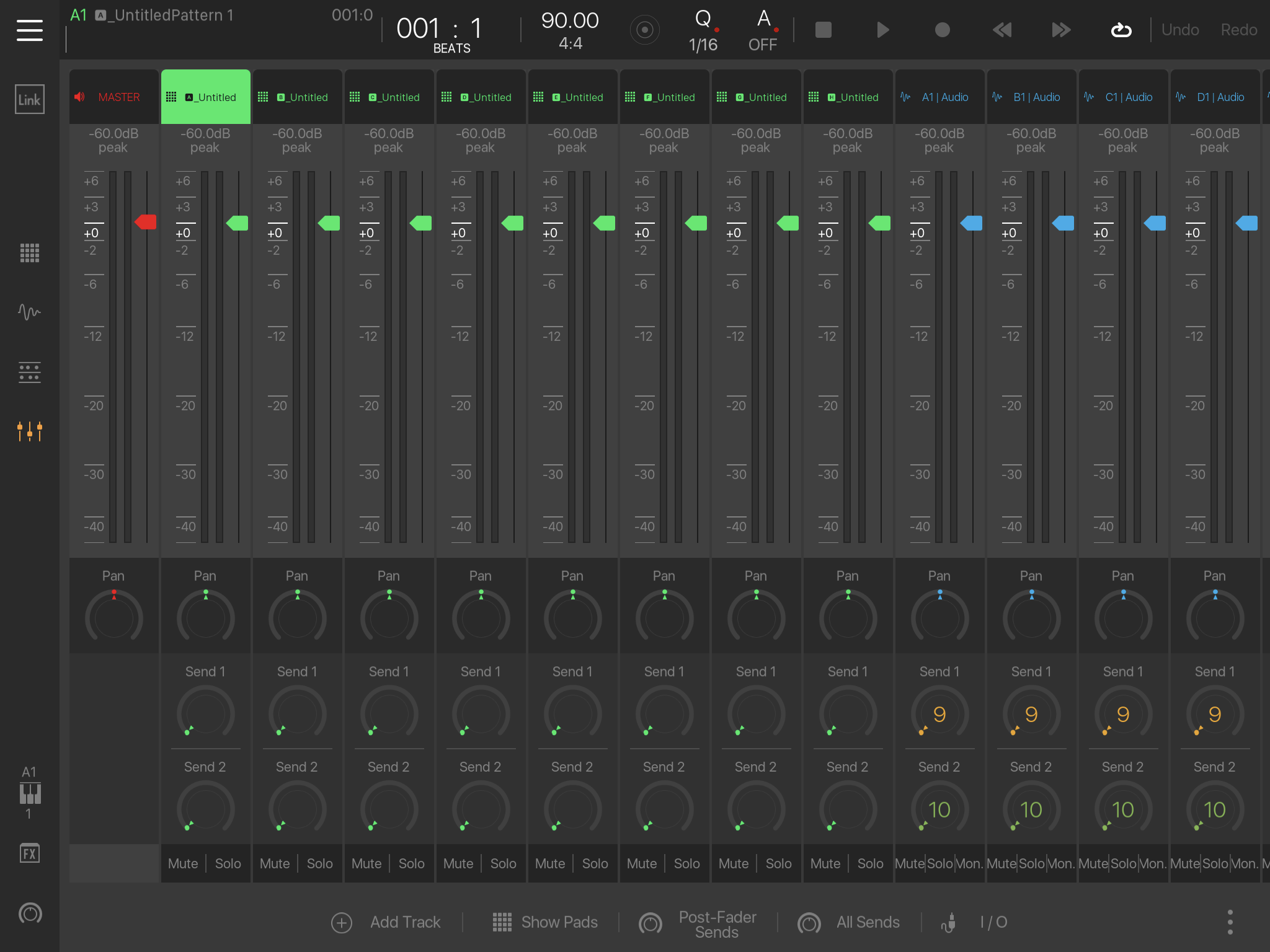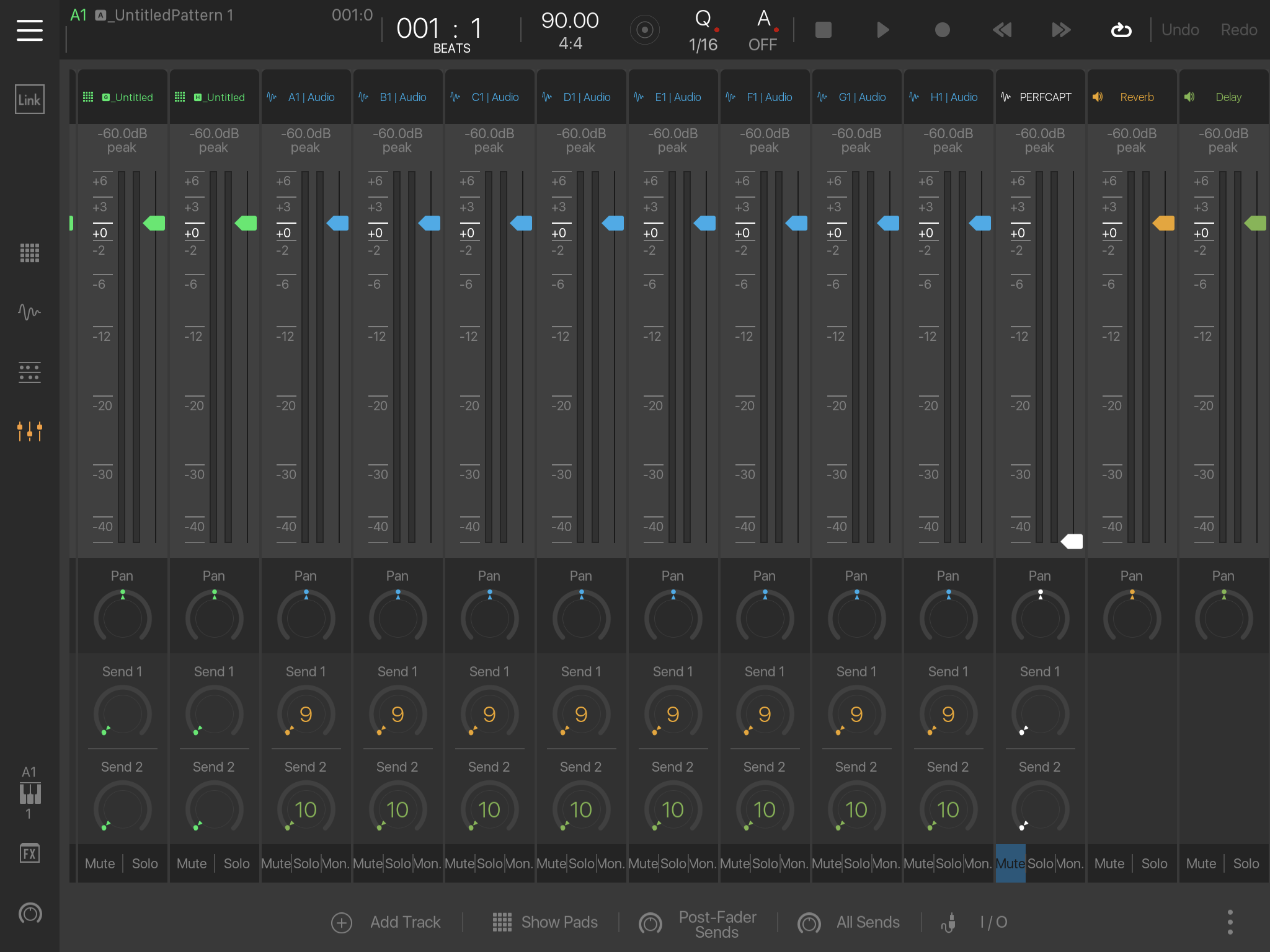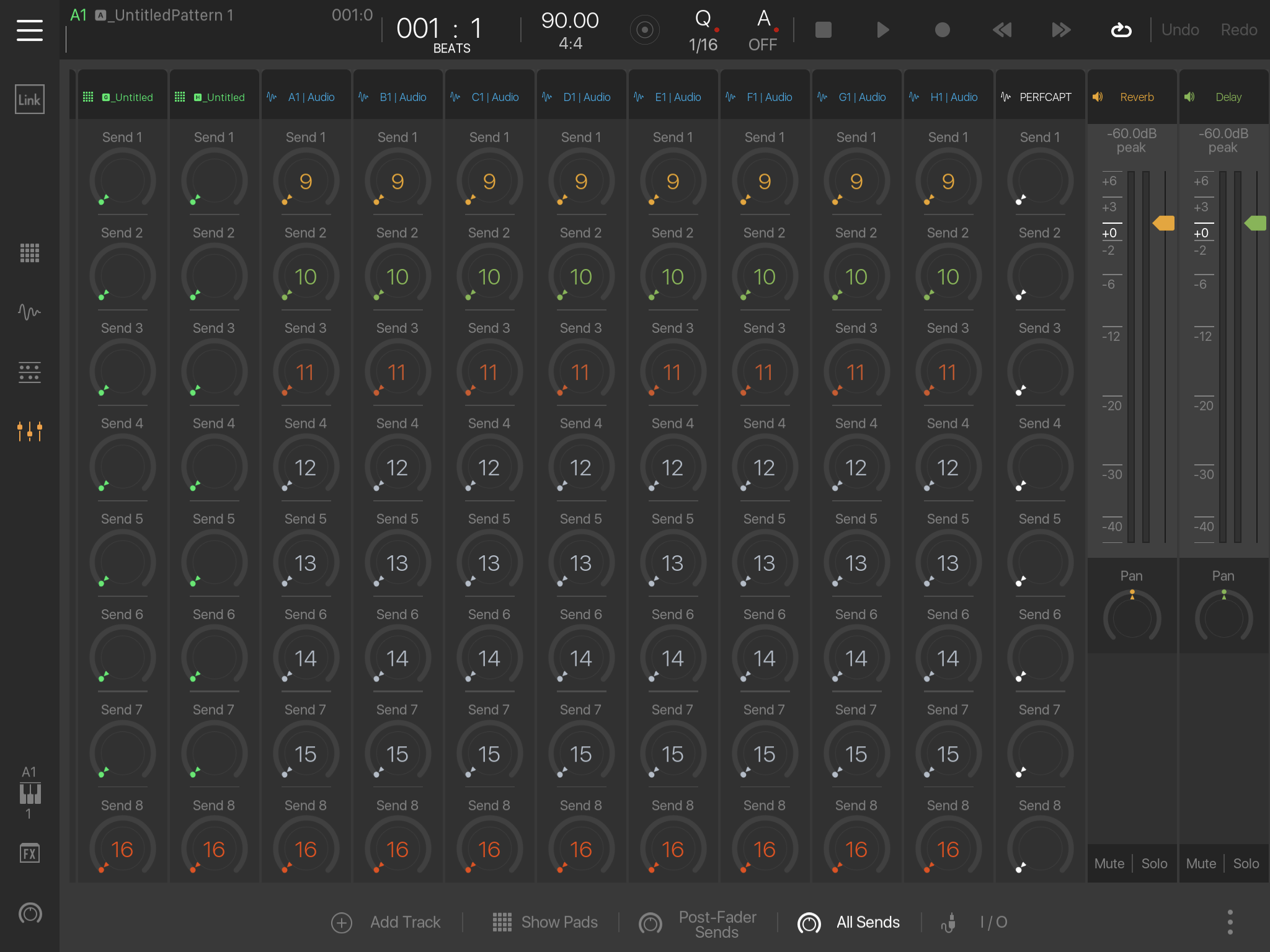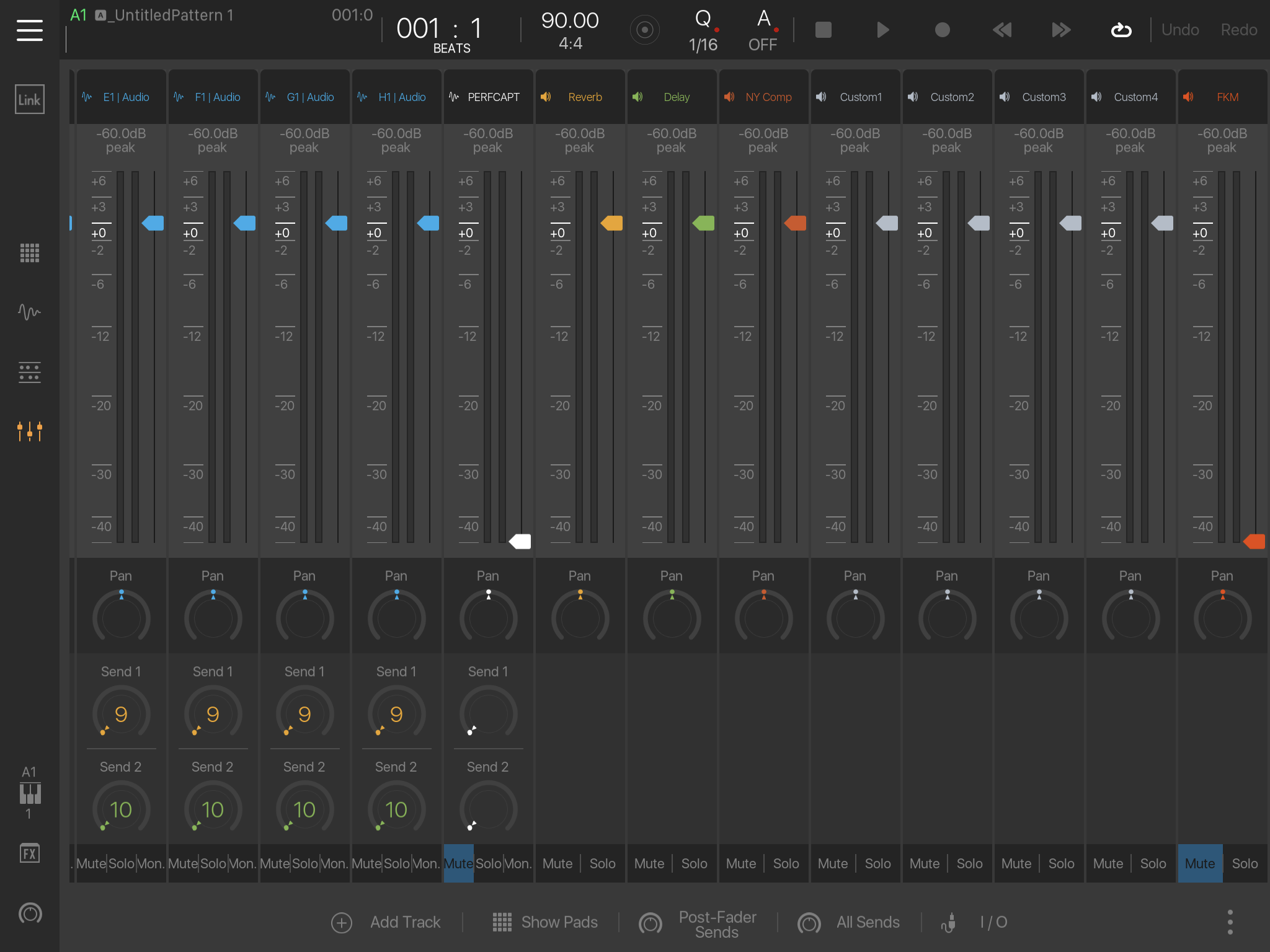 Show All Pads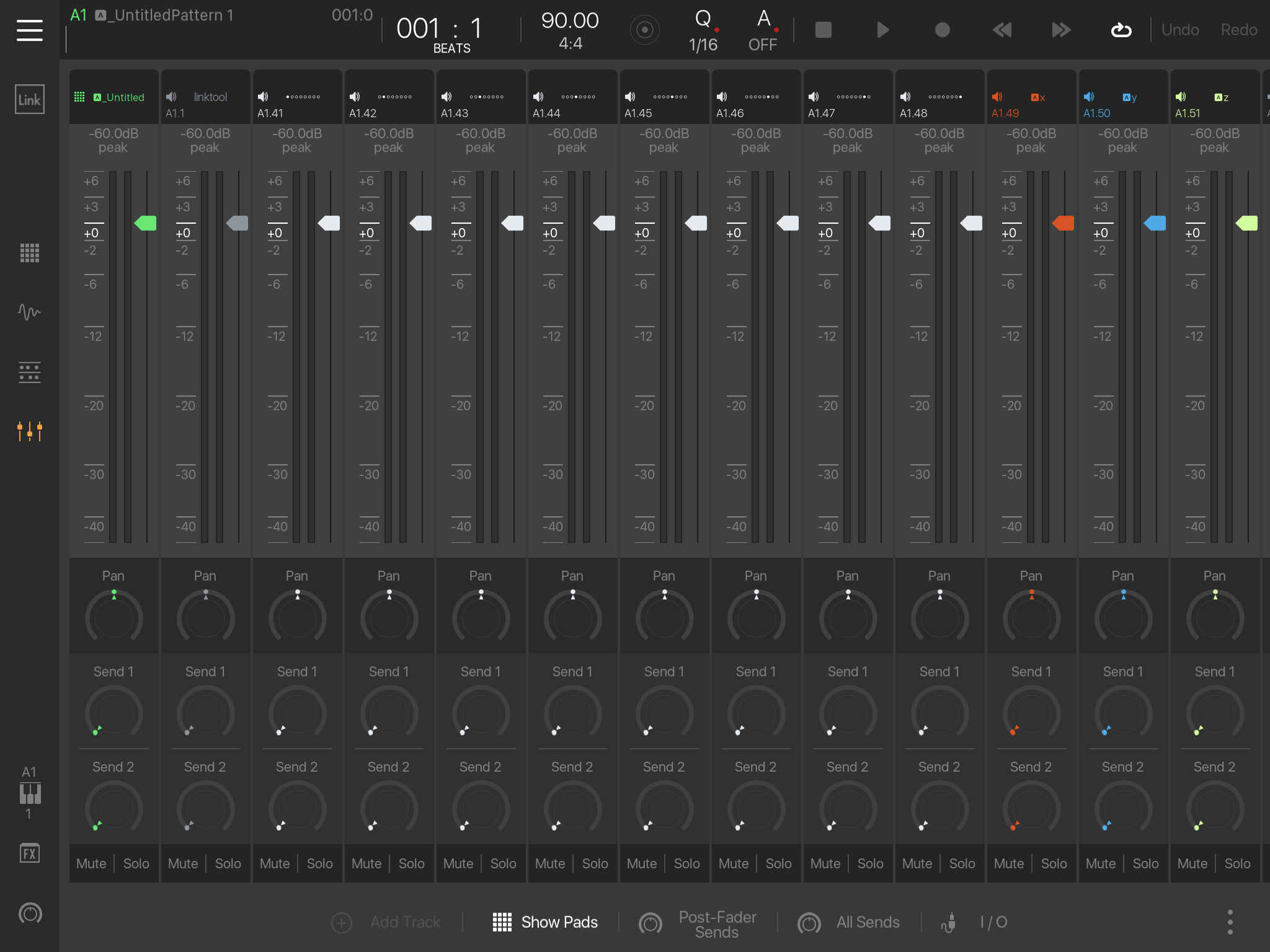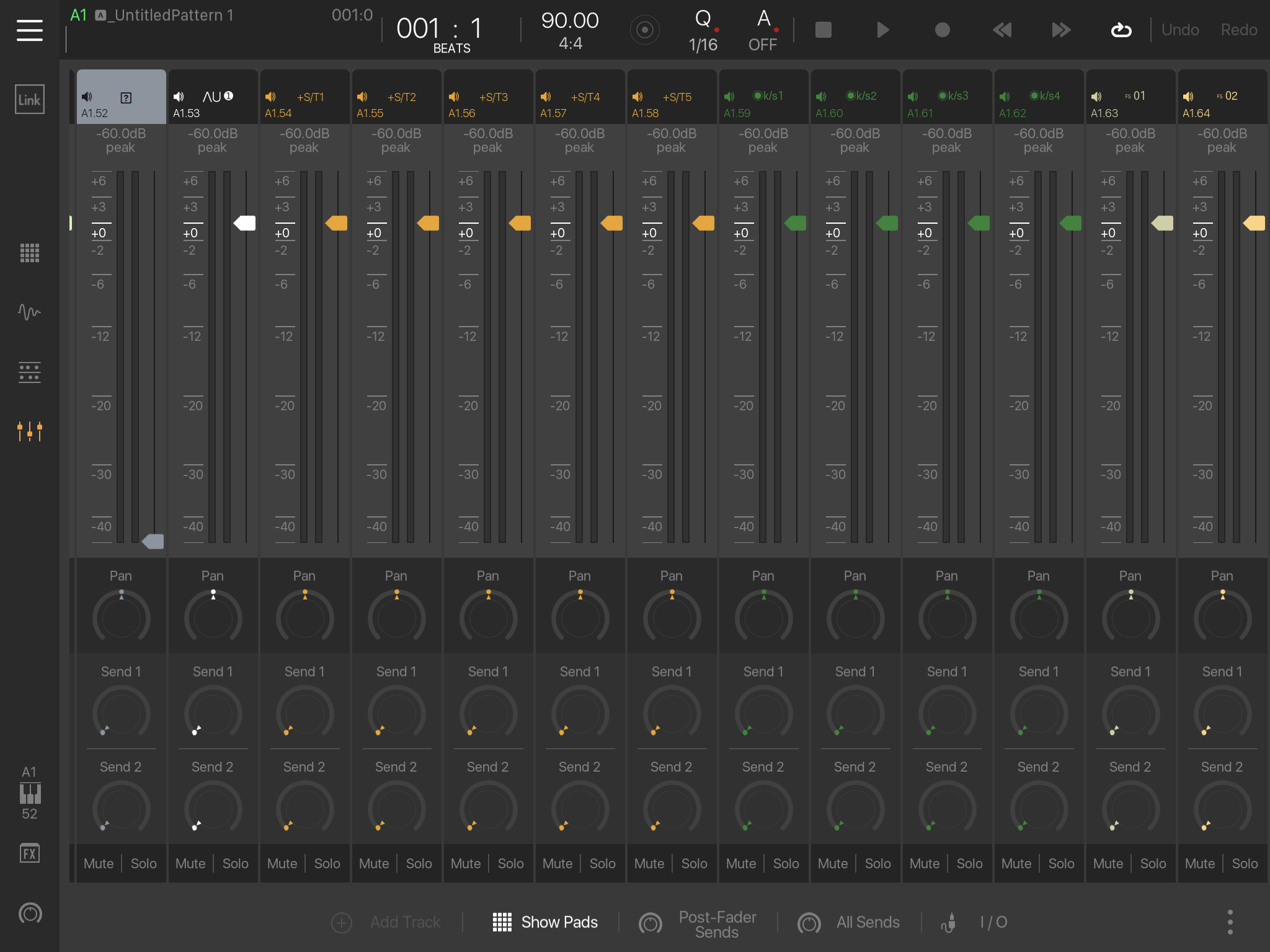 Pattern Editor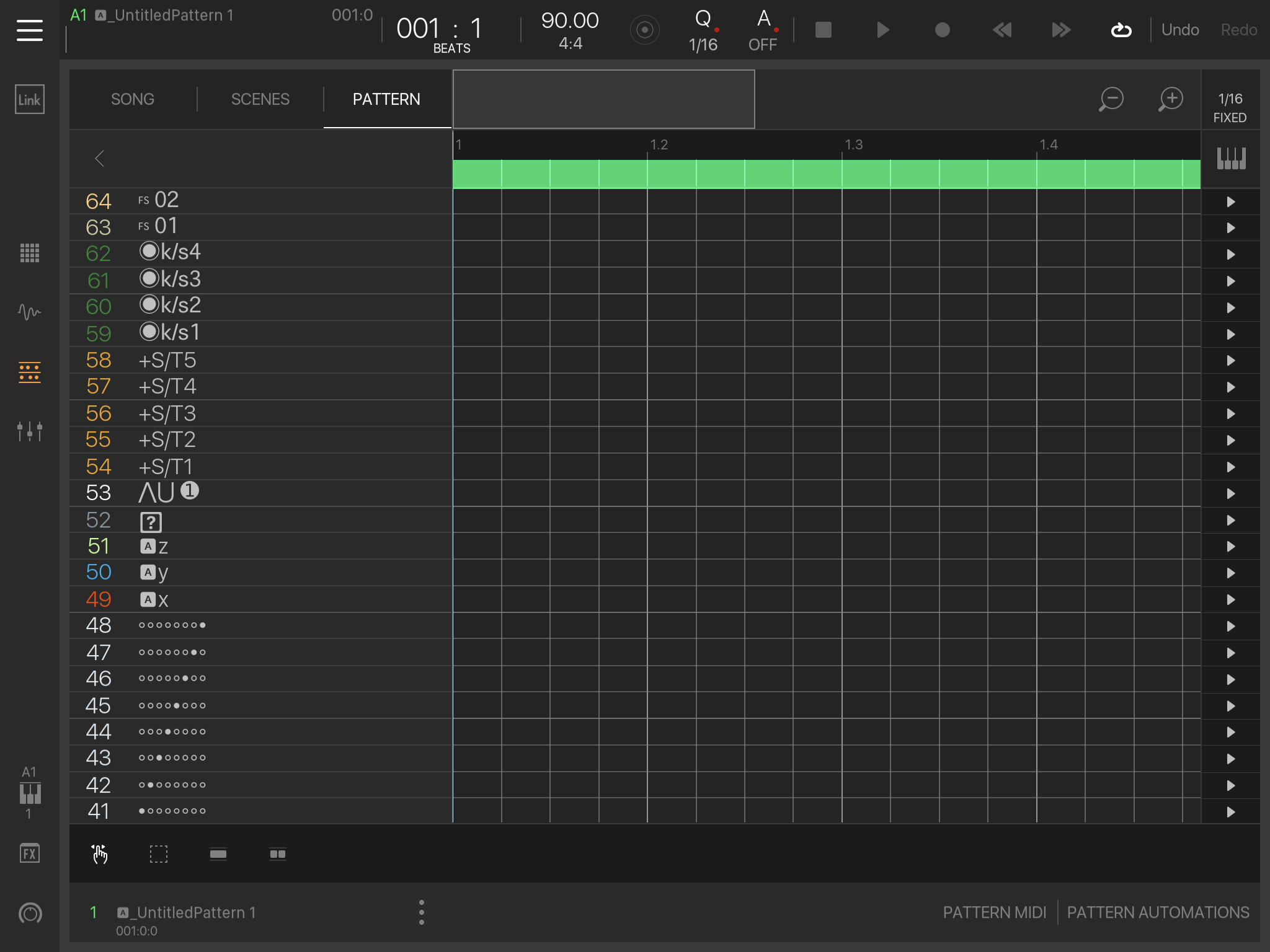 Scene View with Starting Patterns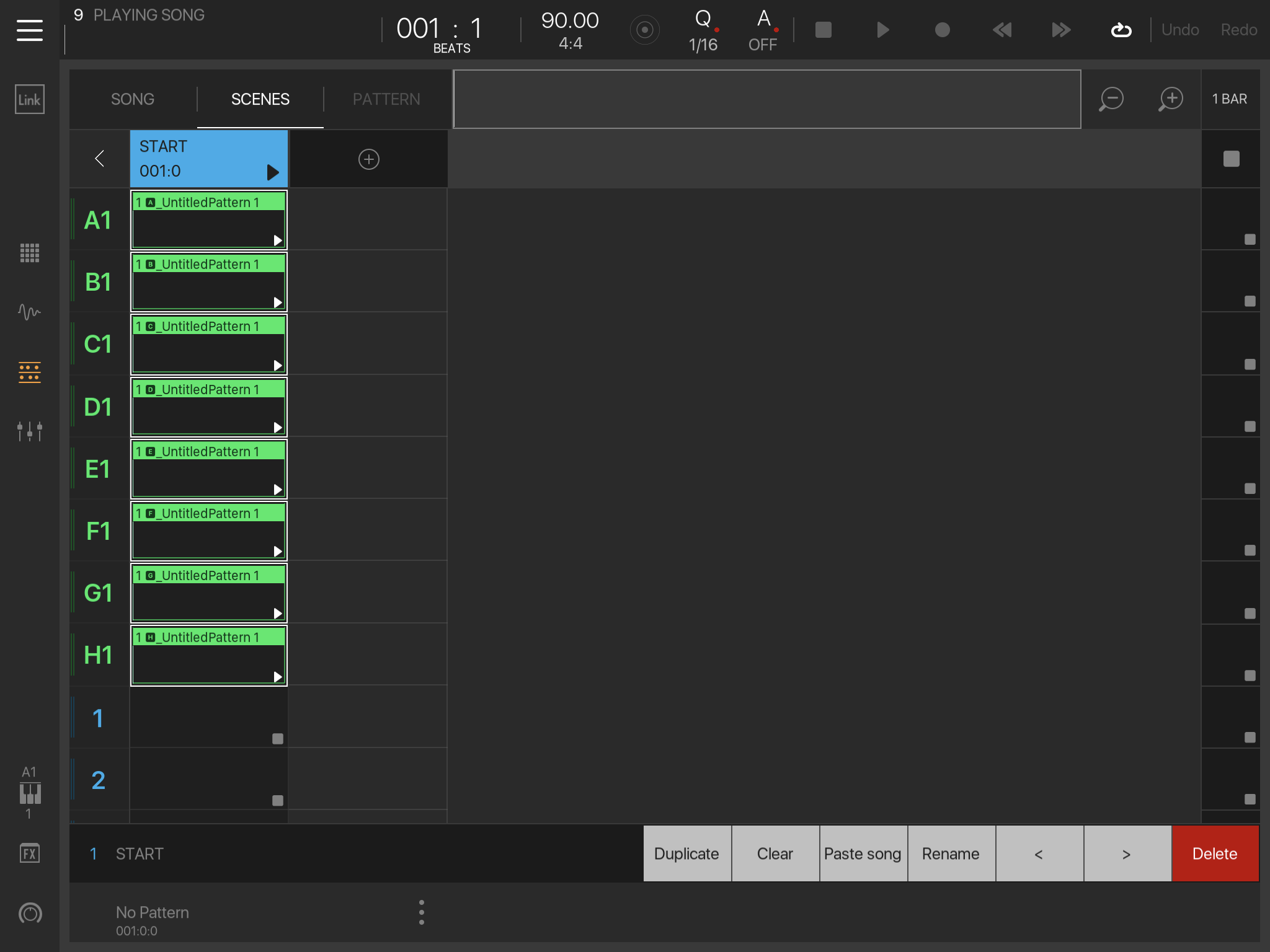 FKM Tool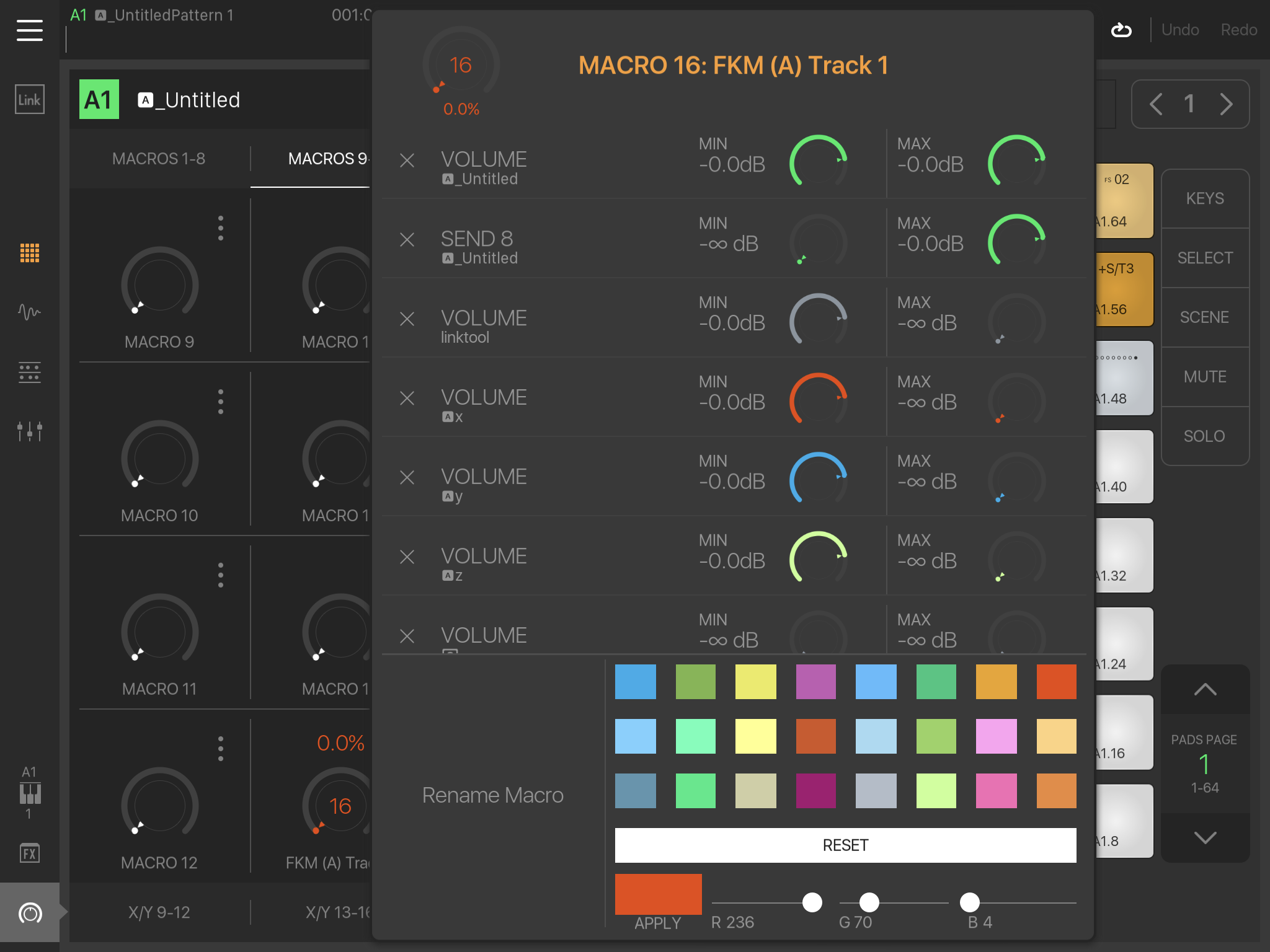 LIGHTS_CTRL bank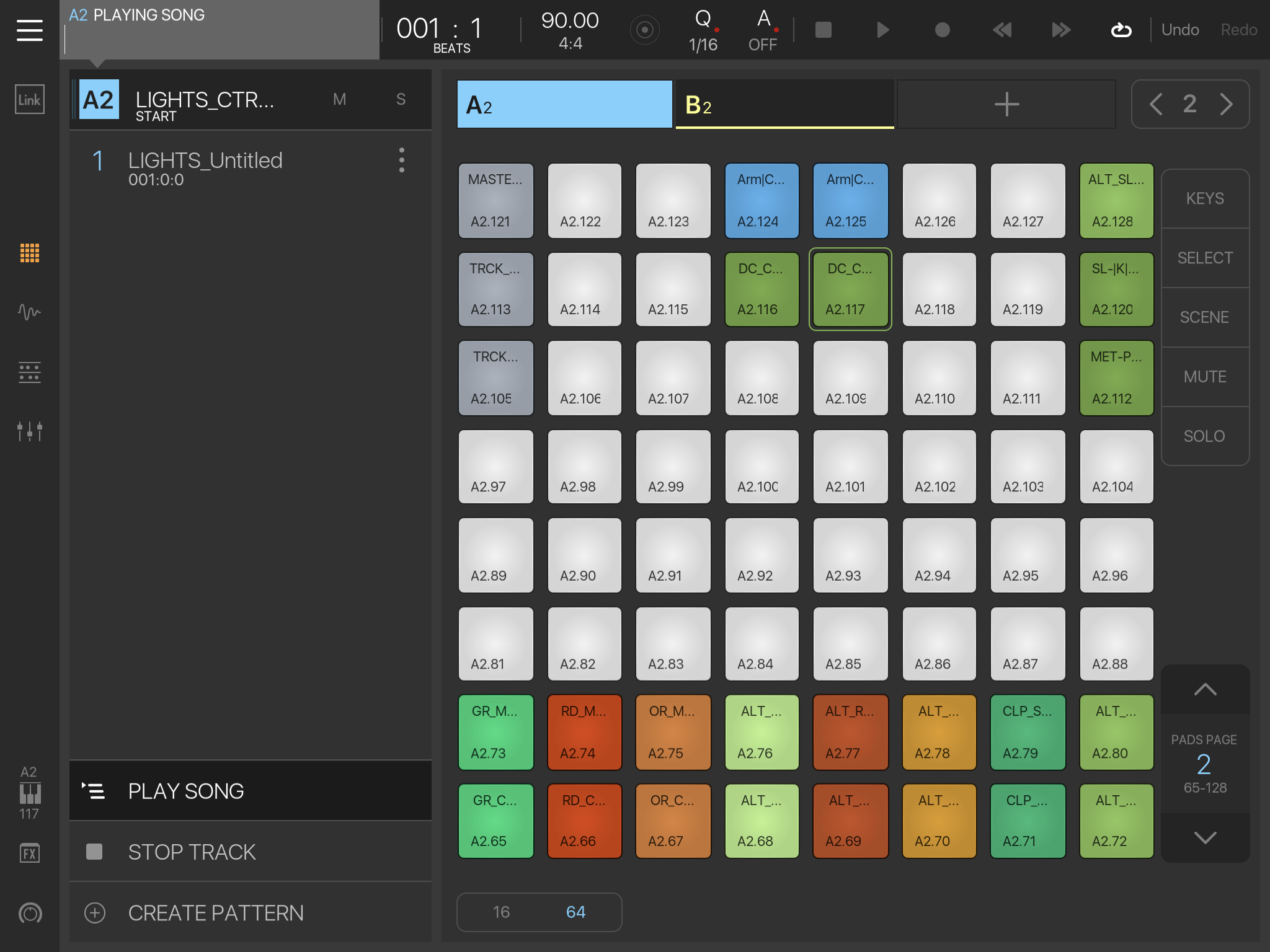 METRONOMES Bank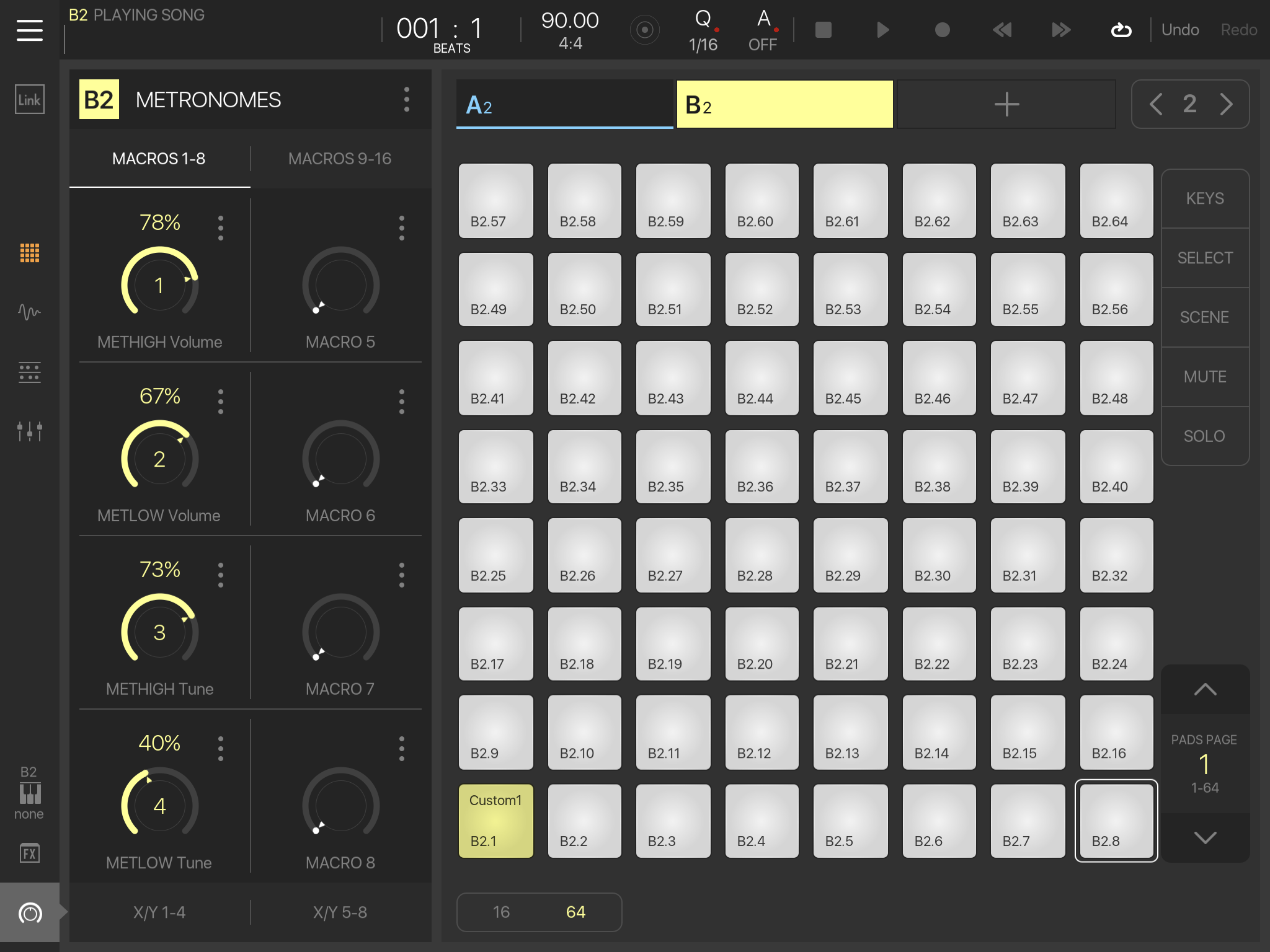 File Directory/BM3 tags example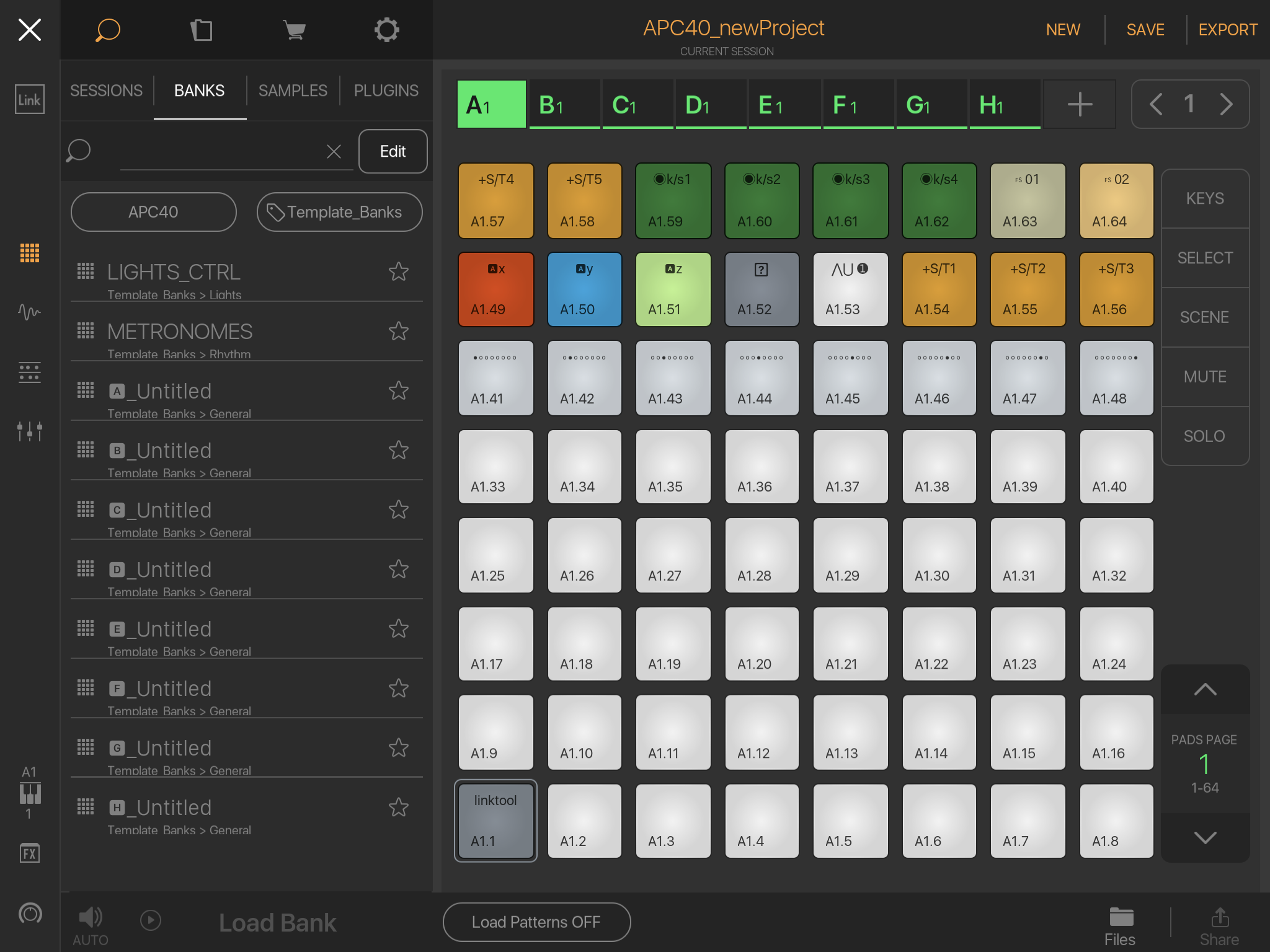 Focus Actions Map 01 (FOCUSED MODE) version 1.1 reference CURRENT
No changes in Release 1.2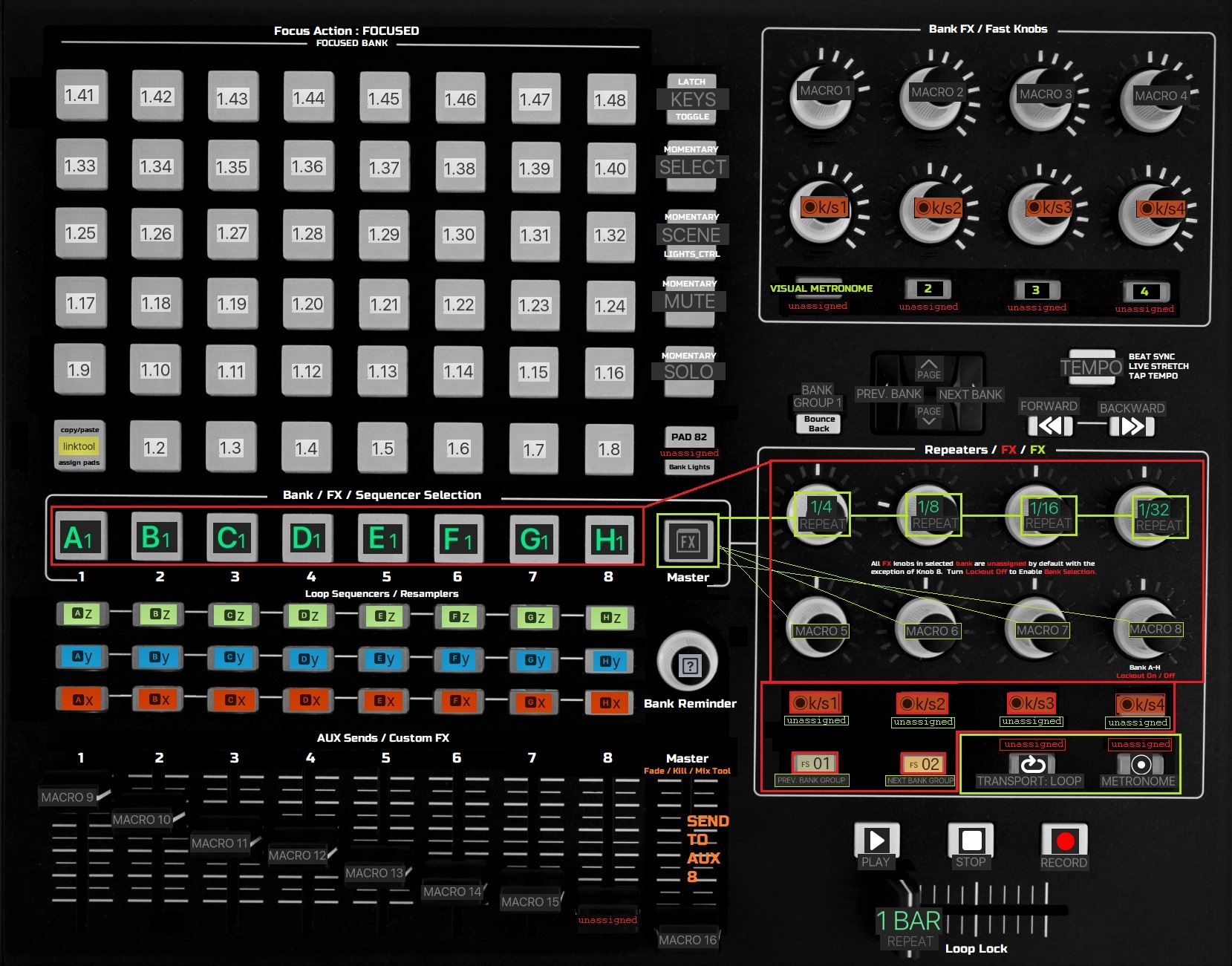 Focus Actions Map 02 (UN-FOCUSED MODE) version 1.1 reference NOT CURRENT Now counts down +S/T 1-5, original +S/T1 is now Plugin Automators 1-8 in Release 1.2

Focus Actions Map 03 (FOCUSED/TRIGGER BAR MODE) version 1.1 reference NOT CURRENT trigger bar +S/T6 is now Bank's Plugin Automator in Release 1.2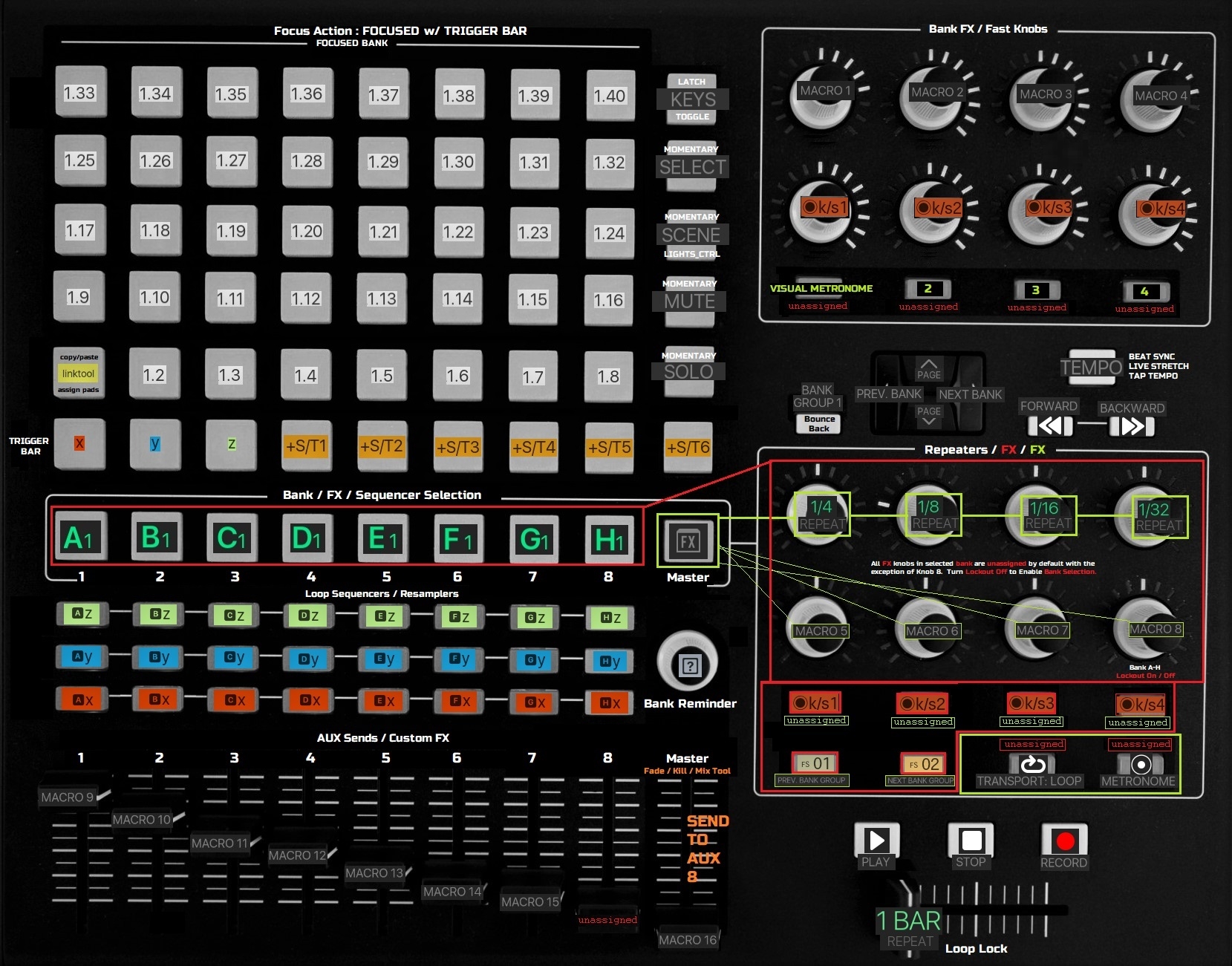 Focus Actions Map 04 (UN-FOCUSED/TRIGGER BAR MODE) version 1.1 reference NOT CURRENT Now counts down +S/T 1-5, +S/T6 is now Bank's Plugin Automator in Release 1.2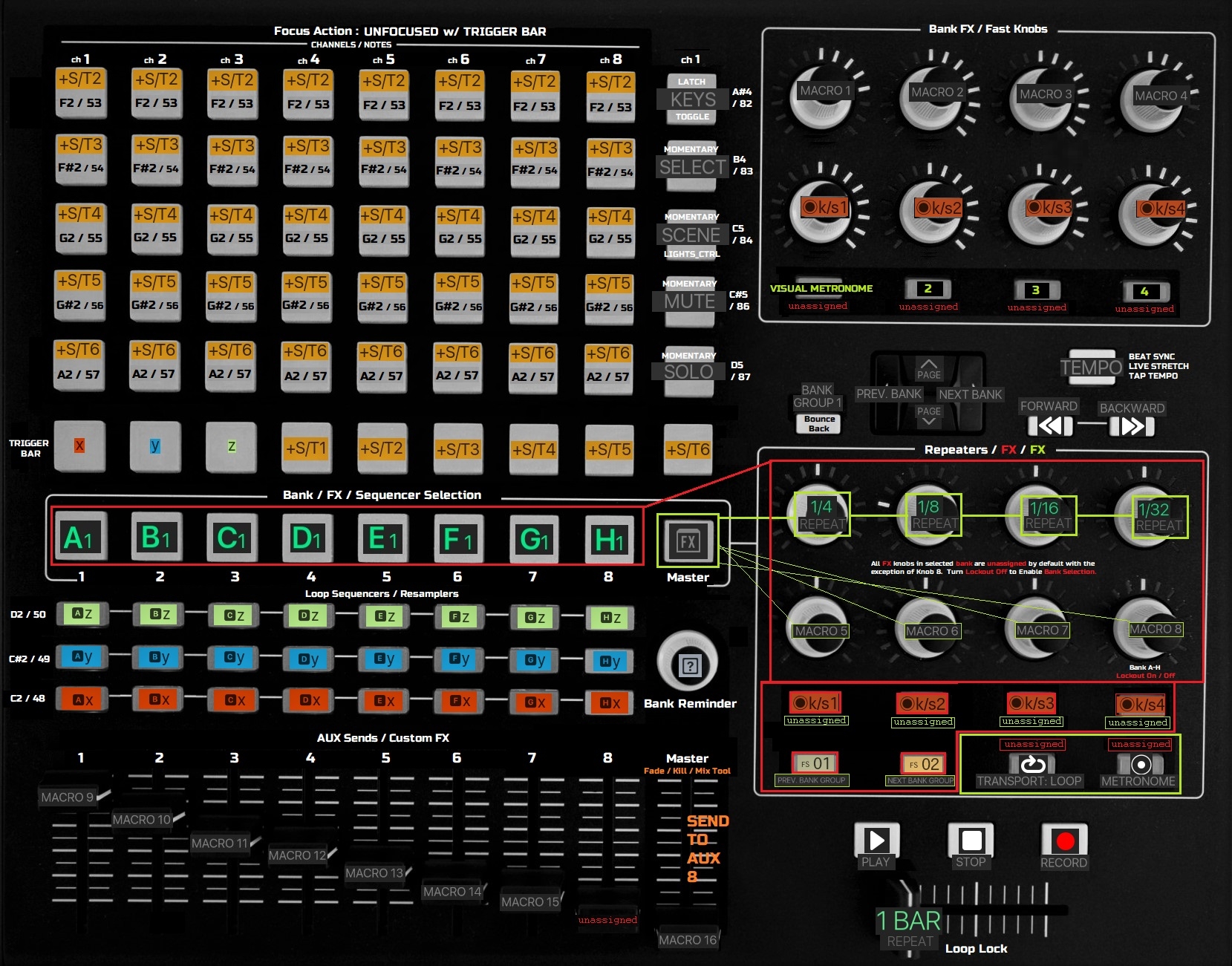 VIDEOS (Coming Soon!):
ALL USERS How-To: Inital Setup PART ONE
(Importing/Unzipping the Template)

APC40 USERS How-To: Inital Setup PART TWO
(Moving Focus Actions, Powering Up/APC40 Reassignment)
APC40 USERS How-To: Getting Started PART ZERO
(APC40 Overview/Mappings)
ALL USERS How-To: Getting Started PART ONE
(File Directory Overview, iOS/BM3 File Management 101)
ALL USERS How-To: Getting Started PART TWO
(Template Overview)
APC40 USERS How-To: BASIC
(Recording Fast Knobs / Repeats)
ALL USERS How-To: INTERMEDIATE
(Using the link tool, Empty.wav file purposes)
ALL USERS How-To: INTERMEDIATE
(Recording your Performance/Resampling 101)
ALL USERS How-To: INTERMEDIATE
(APC40 Visual Metronome, using the METRONOMES bank)
APC40 USERS How-To: ADVANCED
(Using the LIGHTS_CTRL bank to program lights)
ALL USERS How-To: EXPERT
(Building/Automating/Sequencing BM3 with Plugins)
ALL USERS How-To EXPERT
(Complex Routing/Multi-Controller Setups)
DOWNLOADS:
As always with session sharing, make sure all work is properly backed up to prevent possible project overwrites. If you want to backup and keep older template versions, zip up the APC40 folder. You shouldn't have to as the only overwrites would be to the template project files themselves. Not your own, but be safe!
NEW APC40 Beatmaker 3 Session/Template 1.2 Download Link:
https://www.dropbox.com/s/c9yeogcfi0cxaqb/apc40_template_1_2.zip?dl=0
VERSION NOTES:
- PERF VIEW Added Plugin Automators. These are pad placeholders for all 8 banks. Represented with careful selection of symbols from iOS Unicode compatible chart. With the plugin automators this is pre setup (pad layout) for users to easily build their own sequencing setup with IAA/AUs supporting midi in/out control. Sequence pads / trigger other pads use E1 - B1 (Notes 40-47, pads 41-48) with pitching or not. Also assignable via certain included focus actions. Near limitless. (This is to prep for plugin templates or build your own if you know how.)
- PERF VIEW +s/t 1-5 are now organized properly in relation to the APC40 to support plugin automators. I don't read right to left so they still count down.
- PERF VIEW +s/t 6 has been removed. It exists as the new plugin automators per bank. You still have plenty independence. Lol.
- AUXES (Reverb, Delay, NY COMP will have paramater assignments to it's macro controls for the BM3 included effects.)
- AUXES The Fade/Kill/Mix tool has been abbreviated to FKM tool across the template including proper naming per bank/track.
- AUXES (NY Comp Look ahead is enabled by default for all future projects)
- AUXES volume controls are now mapped and reversed
- BANKS removed LIGHTS_CTRL examples to save resources and so you don't have to delete all the junk I put on page 2. A proper tutorial is in the works.
- BANKS added an empty pattern for pattern/scene bouncers (yes I'm calling you that). Cleverly named KILL PATTERN per bank.


- BANKS readded bank lights to bank A (pad 83) For users in the dark or when using BANK/FX lockout with reminder light. Usable in non-trigger bar modes. Uses CLIP STOP button. Also serves as an alternative FKM adjuster in mixer view.
- BANKS The visual metronome will be included in the METRONOMES bank in resources. Uses less resources than LIGHTS_CTRL.
- - BANKS The METRONOMES bank now has volume control per high click and low click and independent tuning. Macro 1-4
- BANKS LIGHTS_CTRL pads are now moved and organized to page two. This leaves page one front and center for your own lights.
- MISC slight color variation changes from BM3 3.0.9 and up. Send colorings for R, D, NYC, more vibrant greens on BANKS, a darker blue for AUDIO tracks. Fast knobs will be a darker green now. The red was harsh. Everything just looks better.
- MISC BM3 Metronome will now be off by default. Turning the metronome ON/OFF via controller turns it on and off for both PLAY / REC modes so I turned them both off.
- MISC Mixer view default size is set to small.
- MISC there is now no annoying duplicate empty.wav being referenced in LIGHTS_CTRL bank. It now is referenced by the one in resources folder. It's the only one.
- MISC text size adjustments to support small mix view.
- MISC Main bank volumes are now locked to 0db in the FKM tool. Serves a few purposes. One being your own pads added to template will not fade out automatically when adding them. If you wish to use your own pads with FKM tool, assign them. All template pads use the tool as default.
- MISC Template tags (categories) have been created for future files. And to find the empty.wav through regular BM3 samples search.
- Glitch Example 01.wav has been removed. Going through a redesign. New plans as well.


- FOCUS_ACTIONS slight modifications to the current set of focus actions to fix controller/perf view behavior.
NEWS/ANNOUNCEMENTS:
As new BeatMaker 3 updates and features come out by the developers and/or I release new versions all announcements will be listed below.
01/21/18
Release 1.2 is now available for download! Release 1.2 will now be completely compatible for iPad only users and users of other controllers regardless if you have an APC40 or not. Bank independence will still require a compatible external controller/virtual controller (plugin). Using an APC40 simultaneously with other controllers is where the full potential of the template shines! All pads in template layout now have an associated link number. This was the original purpose of the link tool. So that this template could be accessible for all users of BM3.
And for those, just starting with this, Please PM me with questions if any. I'm here to help. Enjoy!
01/17/18
Beatmaker 3.0.10 is out! Release notes for 3.0.10 by INTUA's Beatmaker 3 can be found here:
https://intua.net/beatmaker-3-0-10-is-now-available/
For those that don't know, I'm a Type I Diabetic. Immediately after the New Year I had a basic viral infection (common cold), but in this time it made me so sick that I went what's called DKA (Diabetic Ketone Acidosis). In a nutshell, I was an hour away from death and was rushed to the ER. I was hospitalized for a few days, left to return home to recover and now am fully back to work on this project. Just wanted to let everyone know why there were no videos.
I've been learning quite a bit about BM3 and all the cool stuff we can do. Here's some internal development going on for Release 1.2 and above for the APC40:
INTERNAL DEVELOPMENT
Release 1.X and above:
- A new experimental focus action turning pad selection/triggering on its head.
- new template_banks involving the community (Pattern Store, Instrument Builder) Ask me about this if you want. I'll be explaining my mission for this at a later time..
- Linkable pads across banks using the APC40's included banks and pads in template. Maybe.
- Repeats are considering being either removed or relocated as an option to turn on or off in device control.
- The PDF manual is unnecessary. Instead Release 1.3 or above will have a baked in audio tutorial session. This combined with videos is going to teach everything related to the template and BM3 itself!
- Considering supplying an entire collection of glitch noises for you to play with on fast knobs.
Ask anything you want in the thread or through PM. I'll do my best to get any users up and running until I can knock out every single video I want to create. Peace out!
Tagged: